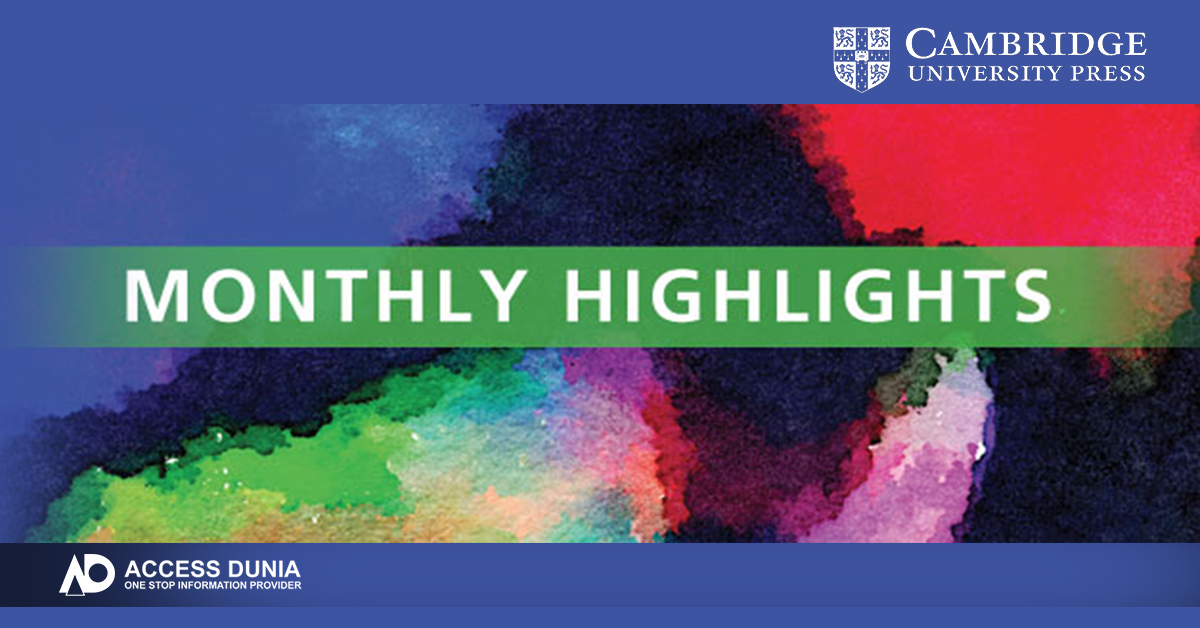 Monthly Highlights in Science, Technology and Medicine- Cambridge University Press
Operator Analysis
Hilbert Space Methods in Complex Analysis
Part of Cambridge Tracts in Mathematics
Authors :
Jim Agler, University of California, San Diego
John Edward McCarthy, Washington University, St Louis
Nicholas John Young, University of Leeds and University of Newcastle
Description :
This monograph, aimed at graduate students and researchers, explores the use of Hilbert space methods in function theory. Explaining how operator theory interacts with function theory in one and several variables, the authors journey from an accessible explanation of the techniques to their uses in cutting edge research.
ISBN : 9781108485449
Date Published : March 2020
A Student's Guide to Newton's Laws of Motion
Part of Student's Guides
Author :
Sanjoy Mahajan, Massachusetts Institute of Technology
Students studying classical mechanics can learn Newton's laws of motion through this accessible and pedagogical guide. Carefully scaffolded everyday examples and full explanations of concepts and equations ensure that students will develop a deep and confident understanding of this fundamental and important subject.
ISBN: 9781108471145 (Hardback)
ISBN: 9781108457194 (Paperback)
Date Published : March 2020
A Hands-On Introduction to Data Science
Author :
Chirag Shah, University of Washington
A practical introduction to data science with a low barrier entry, this textbook is well-suited to students from a range of disciplines. Assuming no prior knowledge of the subject, the hands-on exercises and real-life application of popular data science tools are accessible even to students without a strong technical background.
ISBN : 9781108472449 (Hardback)
Date Published : March 2020
Earth and environmental science
Sustainability Assessment of Urban Systems
Part of Student's Guides
Editors :
Claudia R. Binder, École Polytechnique Fédérale de Lausanne
Romano Wyss, École Polytechnique Fédérale de Lausanne
Emanuele Massaro, École Polytechnique Fédérale de Lausanne
This book provides guidelines for assessing the sustainability of urban systems and covers different aspects of urban sustainability, from energy and housing, to mobility and health. Including numerous case studies, this book provides a useful reference for researchers from a broad range of disciplines working in the field of sustainability.
ISBN : 9781108471794 (Hardback)
Date Published : March 2020
Dynamics of Multibody Systems
5th Edition
Author :
Ahmed Shabana, University of Illinois, Chicago
A fully revised fifth edition providing comprehensive coverage of flexible multibody system dynamics. Including a new chapter on the integration of geometry, durability analysis, and design, it is ideal for single-semester graduate courses on multibody dynamics taken in aerospace and mechanical engineering departments.
ISBN : 9781108485647 (Hardback)
Date Published : March 2020
Comparative Plant Succession among Terrestrial Biomes of the World
Part of Ecology, Biodiversity and Conservation
Authors :
Karel Prach, University of South Bohemia, Czech Republic
Lawrence R. Walker, University of Nevada, Las Vegas
This book provides the first global synthesis comparing plant succession across all major terrestrial biomes and disturbances. Students and researchers in ecology, restoration ecology and conservation biology will benefit from insights into general patterns, and restorationists can utilize succession concepts in a rapidly changing world.
ISBN : 9781108472760 (Hardback)
ISBN : 9781108460248 (Paperback)
Date Published : March 2020
Editors :
Alice D. Domar, Boston IVF, Waltham, MA
Denny Sakkas, Boston IVF, Waltham, MA
Thomas L. Toth, Boston IVF, Waltham, MA
An extensive resource meeting the needs of infertility care-givers, in the face of changing roles within IVF. This will aid those looking to employ high-quality methodologies to innovate practices for healthcare professionals, and bring patient-centered care to the forefront of the infertility sphere, raising standards of IVF patient-interaction.
ISBN : 9781108796774 (Paperback)
Date Published : March 2020