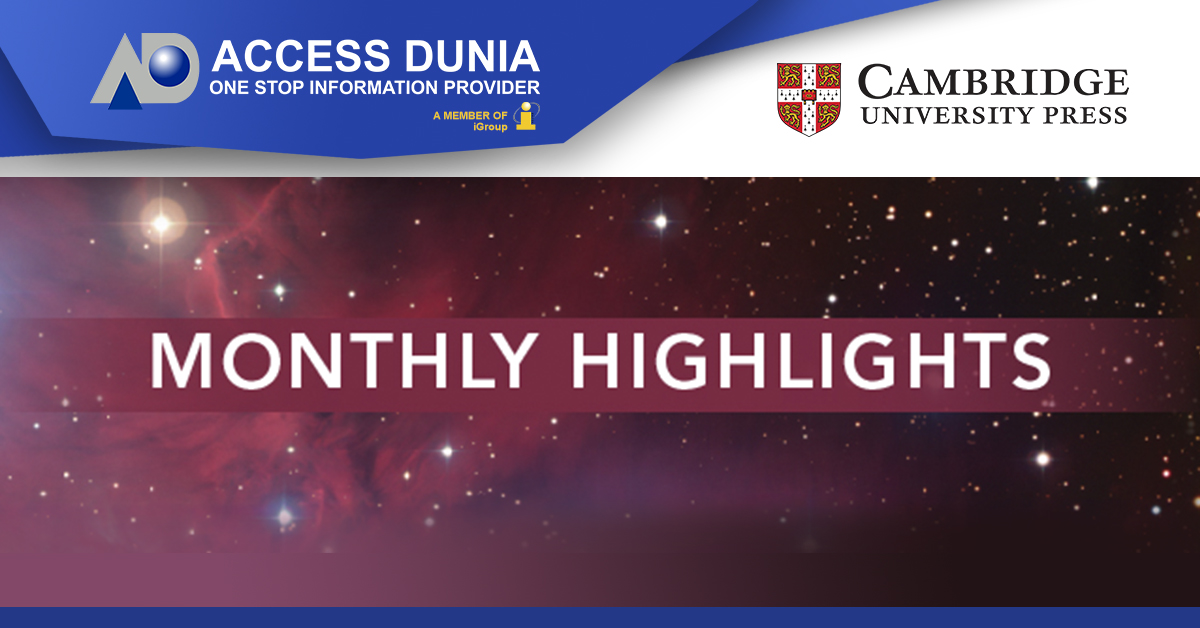 Monthly Highlights in Science, Technology and Medicine
– Cambridge University Press
Cambridge University Press publishes over 15,000 print books in science, technology and medicine subjects. Within Medicine, we publish key titles in clinical and brain sciences, with strengths also in reproductive medicine and pathology. Our publishing programme in Physics spans the entire discipline and in Mathematics, we are a world leader in both pure and applied maths publishing.
Topics in Cyclic Theory
Authors :
Daniel G. Quillen, University of Oxford
Gordon Blower, Lancaster University
Description :
Noncommutative geometry combines themes from algebra, analysis and geometry and has many applications to physics. This book focuses on cyclic theory, containing background not found in published papers. It is intended for Ph.D. students in analysis and geometry, and researchers using K-theory, cyclic theory, differential geometry and index theory.
ISBN :
9781108479615
9781108790444
Date Published : July 2020
Languages in Space and Time
Models and Methods from Complex Systems Theory
Author :
Marco Patriarca, National Institute of Chemical Physics and Biophysics, Tallinn
Els Heinsalu, National Institute of Chemical Physics and Biophysics, Tallinn
Jean Leó Leonard, Paris-Sorbonne University, Paris
Description :
An excellent toolkit for mathematicians and linguists eager to explore the problems in linguistics that can be addressed using the theory of complex systems and tools of statistical mechanics. It also provides a valuable overview for students entering the fascinating field of languages in space and time.
ISBN: 9781108480659
Date Published : July 2020
Algorithm Design with Haskell
Author :
Richard Bird & Jeremy Gibbons
Description :
This book presents the five main principles of algorithm design: divide and conquer, greedy algorithms, thinning, dynamic programming, and exhaustive search. It serves students, teachers, researchers, and professionals who want to know more about what goes into a good algorithm and how such algorithms can be expressed in purely functional terms.
ISBN : 9781108491617
Date Published : July 2020
Earth and Environmental Science
Understanding Environmental Pollution
Author :
Marquita K. Hill
Description :
This undergraduate textbook examines environmental pollution ranging from our homes to the global environment. Completely updated and with over 50% new and rewritten material, this edition assesses the international scope of pollution, including air and water pollution, climate change, energy, solid and hazardous waste, and pollution at home.
ISBN :
9781108423083
9781108436106
Date Published : July 2020
Introduction to Engineering Heat Transfer
Author :
G. F. Nellis
S. A. Klein
Description :
Integrates fundamental theory with computational tools to give students the skills and confidence to solve real-world heat transfer problems. With extensive examples and real engineering problems throughout, and a suite of online teaching resources, this is an essential text for heat transfer courses and a useful guide for practicing engineers.
ISBN : 9781107179530
Date Published : July 2020
Understanding Coronavirus
Authors :
Raul Rabadan
Description :
Why is the information available about the coronavirus/COVID-19 so confusing? Written by a leading researcher, Understanding Coronavirus is a concise and accessible introduction to all the science and facts you need to understand how the virus works, how it spreads and how it compares to other respiratory viruses.
ISBN : 9781108826716
Date Published : July 2020
So Young, So Sad, So Listen
A Parents' Guide to Depression in Children and Young People
Authors :
Philip Graham
Nick Midgley
Description :
A book for parents and carers wanting to know more about depression in children and teenagers. Written by clinical experts, it describes how to recognise depression and what causes it; and provides guidance on how parents can support their child, including up-to-date advice on seeking professional help.
ISBN : 9781911623564
Date Published : July 2020