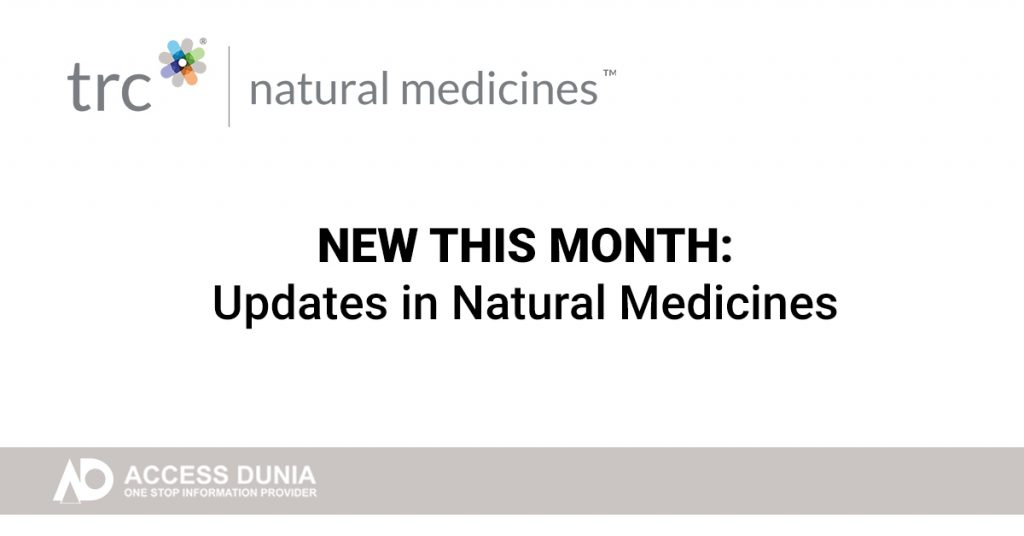 New this Month : Updates in Natural Medicines
To all the healthcare professionals: thank you so much for the work you're doing right now! TRC is committed to supporting clinical teams like yours on the front lines of this pandemic. Access complimentary resources at the TRC COVID-19 Resource Hub to help you do your best work.
COVID-19 Prevention: Don't Rely on Natural Products
Help patients understand that products promoted as "immune boosters" can't prevent COVID-19.

Popular Natural Allergy Remedies
Around 15-30% of people in the U.S. are affected by allergies,* and many use natural remedies for relief. Which ones can help?

Creatine Nitrate vs. Creatine Monohydrate
Dietary supplement companies promote creatine nitrate as a new and improved form of creatine. Read how this form compares to the more common monohydrate salt.

Commercial Product Trends
New trends you might start getting questions about include environmentally friendly products, colloidal silver for immunity, and turmeric drinks.

NEW CE: Medical Cannabis & Cannabinoids
Cannabis-derived product use is growing at an unprecedented rate. Get up to speed with our new course.

NEW Monograph: Cannabinol
Cannabinol (CBN) is expected to be the next popular Cannabis-derived wellness ingredient. Learn about it in our new monograph.

The FDA warns consumers to avoid dietary supplements containing cesium.