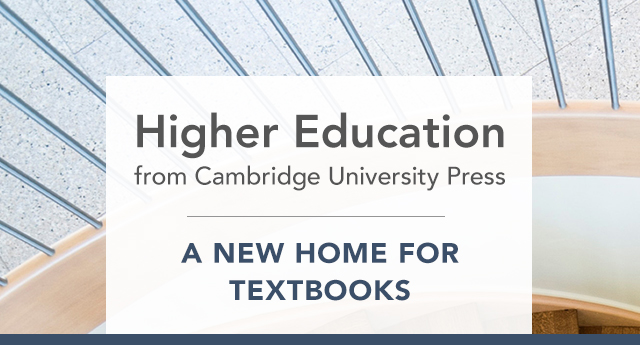 Our new site for textbooks includes a new pricing model for institutional access, collections including by subject, and more!
Our Higher Education from Cambridge University Press website has now fully launched, offering high-quality teaching and learning resources and featuring key functionality at sustainable price points.
Cambridge textbooks are now available through an annual lease, with title-by-title pricing and for the first time, in collections: the full collection, all HSS textbooks, all STM titles, and 17 individual subject collections. As new textbooks are published,each will be added to the appropriate collection. Pricing is not based on course size, and allows for unlimited concurrent user access for your institution. All collections offer a reduced price per title.
Redirects for URLs and DOIs are now in place from our textbooks' previous home on Cambridge Core to preserve seamless access for our users.There is no need to amend any existing links or records. However, new KBART title lists and MARC records tailored to yourinstitution can be downloaded from your organisation account area on Cambridge Core.
Higher Education fromCambridge University Press now enables users to:
Read offline
Highlight and bookmark text
Make notes
Print (copy and paste will be available shortly)
The site now includes 540 textbooks, and additional titles will be made available in the coming weeks. For a current list of titles on the site, please click here.
For more information about the new site, please view the FAQs page for librarians.
Full collection: access to all available Cambridge textbooks, including new titles published during the lease period
19 subject collections including Law, Language and Linguistics, Physics and Astronomy, Life Sciences, and Management
Title by title ordering.for maximum flexibility
Special pricing for customized collections: we can match titles against your institution's reading list, if applicable, and offer reduced pricing for bundles of more than 5 textbooks
For more information about leasing options, all of which allow unlimited access for your institution, please contact your usual library sales representative or [email protected] (Americas) and [email protected] (the rest of the world).