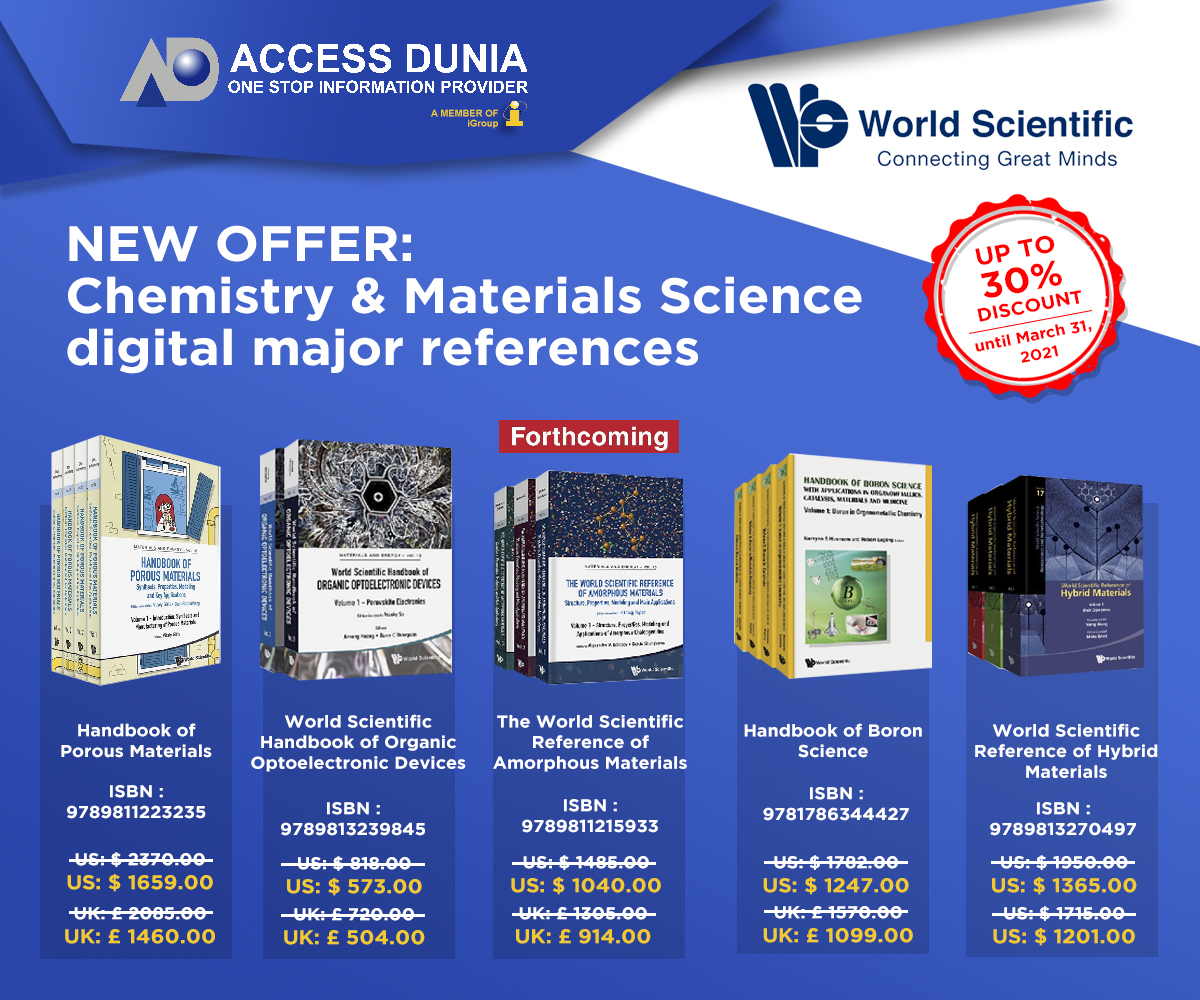 The following list of Chemistry and Materials Science digital major references are discounted at 30% from now until March 31, 2021.

All content is accessed on World Scientific web site, for unlimited concurrent users, and are DRM free!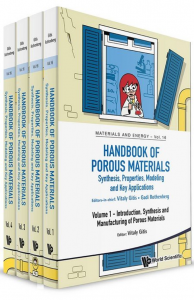 Handbook of Porous Materials
Synthesis, Properties, Modeling and Key Applications
(In 4 Volumes)
Volume 1: Introduction, Synthesis and Manufacturing of Porous Materials
Volume 2: Characterisation and Simulation of Porous Materials
Volume 3: Separations Using Porous Materials
Volume 4: Porous Materials for Energy Conversion and Storage
Editor-in-chief:
·  https://www.worldscientific.com/worldscibooks/10.1142/11909
This four-volume handbook gives a state-of-the-art overview of porous materials, from synthesis and characterization and simulation all the way to manufacturing and industrial applications.  Coordinating the efforts of 37 expert authors in 14 chapters, they construct the story of porous carbons, ceramics, zeolites and polymers from varied viewpoints: surface and colloidal science, materials science, chemical engineering, and energy engineering.
US: $ 2370.00   
US: $ 1659.00
UK: £ 2085.00
UK: £ 1460.00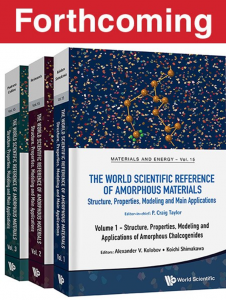 The World Scientific Reference of Amorphous Materials
Structure, Properties, Modeling and Main Applications
(In 3 Volumes)
Volume 1: Structure, Properties, Modeling and Applications of Amorphous Chalcogenides
Volume 2: Structure, Properties and Applications of Oxide Glasses
Volume 3: Structure, Properties, and Applications of Tetrahedrally Bonded Thin-Film Amorphous Semiconductors
Editor-in-chief:

Edited By: Alexander V Kolobov (Herzen State Pedagogical University of Russia, Russia), Koichi Shimakawa (Gifu University, Japan), Ivar E Reimanis (Colorado School of Mines, USA), Nikolas J Podraza (University of Toledo, USA) and Robert W Collins (University of Toledo, USA)
https://www.worldscientific.com/worldscibooks/10.1142/11697
The topics covered in these three volumes include (1) concepts for understanding the structures of amorphous materials, (2) techniques to characterize the structural, electronic, and optical properties of amorphous materials, (3) the roles of defects in affecting the electronic and optical properties of amorphous materials, and (4) the concepts for understanding practical devices and other applications of amorphous materials. Applications discussed in these volumes include transistors, solar cells, displays, bolometers, fibers, non-volatile memories, vidicons, photoresists, and optical disks.
US: $ 1485.00  
US: $ 1040.00
UK: £ 1305.00
UK: £ 914.00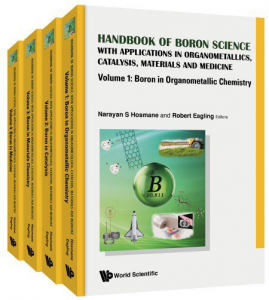 Handbook of Boron Science
With Applications in Organometallics, Catalysis, Materials and Medicine
(In 4 Volumes)

Volume 1: Boron in Organometallic Chemistry
Volume 2: Boron in Catalysis
Volume 3: Boron in Materials Chemistry
Volume 4: Boron in Medicine

Edited By: Narayan S Hosmane (Northern Illinois University, USA) and Robert Eagling
https://www.worldscientific.com/worldscibooks/10.1142/Q0130
This multi-reference work describes the topic by appointing leading researchers to write on current developments in boron science, showcasing its importance to the four separate areas described in each volume: Organometallic Chemistry, Catalysis, Materials Chemistry and Medicine.
Written to cover the full range of applications and innovations in boron science, this all-encompassing work offers us a one-stop reference compiled by world-leading researchers and practitioners of the subject, making it perfect for undergraduate and graduate students of chemistry, and researchers and practitioners interested in their professional development.
US: $ 1782.00
US: $ 1247.00
UK: £ 1570.00
UK: £ 1099.00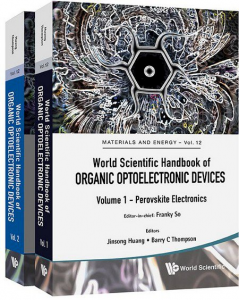 World Scientific Handbook of Organic Optoelectronic Devices
(Volumes 1 & 2)
Volume 1: Perovskite Electronics
Volume 2: Organic Photovoltaics (OPVs)
Editor-in-chief: Franky So (North Carolina State University, USA)
https://www.worldscientific.com/worldscibooks/10.1142/10780
Organic (opto)electronic materials have received considerable attention due to their applications in perovskite and flexible electronics, OPVs and OLEDs and many others. Reflecting the rapid growth in research and development of organic (opto)electronic materials over the last few decades, this book provides a comprehensive coverage of the state of the art in an accessible format. It presents the most widely recognized fundamentals, principles, and mechanisms along with representative examples, key experimental data, and over 200 illustrative figures.
US: $ 818.00  
US: $ 573.00
UK: £ 720.00
UK: £ 504.00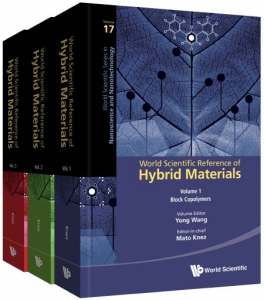 World Scientific Reference of Hybrid Materials
(In 3 Volumes)
Volume 1: Block Copolymers
Volume 2: Devices from Hybrid and Organic Materials
Volume 3: Sol-Gel Strategies for Hybrid Materials

Editor-in-chief: Mato Knez (CIC nanoGUNE, Spain & IKERBASQUE, Spain)
https://www.worldscientific.com/worldscibooks/10.1142/10993
This reference covers the areas of synthesis of such hybrid materials, which take benefit from each of the consisting ingredients, and overviews some of the emerging applications based on the materials. Much of the current research is still in its infancy, but hybrid materials are already now considered to be the key enabler for important future developments, for example flexible electronics. With this perspective, this reference aims at giving the general public an overview over the topics of relevance in this field, but also attracting new researchers to this intriguing scientific area.
US: $ 1950.00
US: $ 1365.00
UK: £ 1715.00
UK: £ 1201.00