Topic 1 :
Indonesia's recent militarisation of the South China Sea, in response to Chinese vessel movements (assets deployed, installations, and operations)
Time : 10:00am – 10:40am
Prior to 2018, the Natuna Islands region was little more than a sleepy outpost of the Indonesian Armed Forces. But the island is now home to facilities for submarines, frigates, corvettes and amphibious landing ships. There are plans to further militarise the island, given China's increasingly aggressive actions in waters surrounding the region. The briefing will examine these developments, and Indonesia's future plans for the region.
Speaker : Rizwan Rahmat
Topic 2 :
How Covid-19 pandemic's effects on defence budgets in Asia Pacific
Time : 11:00am – 11:40am
The Covid-19 pandemic has thrown the world's economy – and many countries' government finances – into disarray. But the effect of this increased fiscal pressure on military expenditure in Asia-Pacific has not been a simple reflection of the economic damage.
This briefing will explore how states across the region have reacted to the new economic environment, examining current spending plans and presenting forecasts for key markets in Asia.
Find out which countries are scaling back expenditure, whose plans remain unchanged and where geopolitics appears to be taking precedence over economic concerns – for now.
Speaker : Andrew MacDonald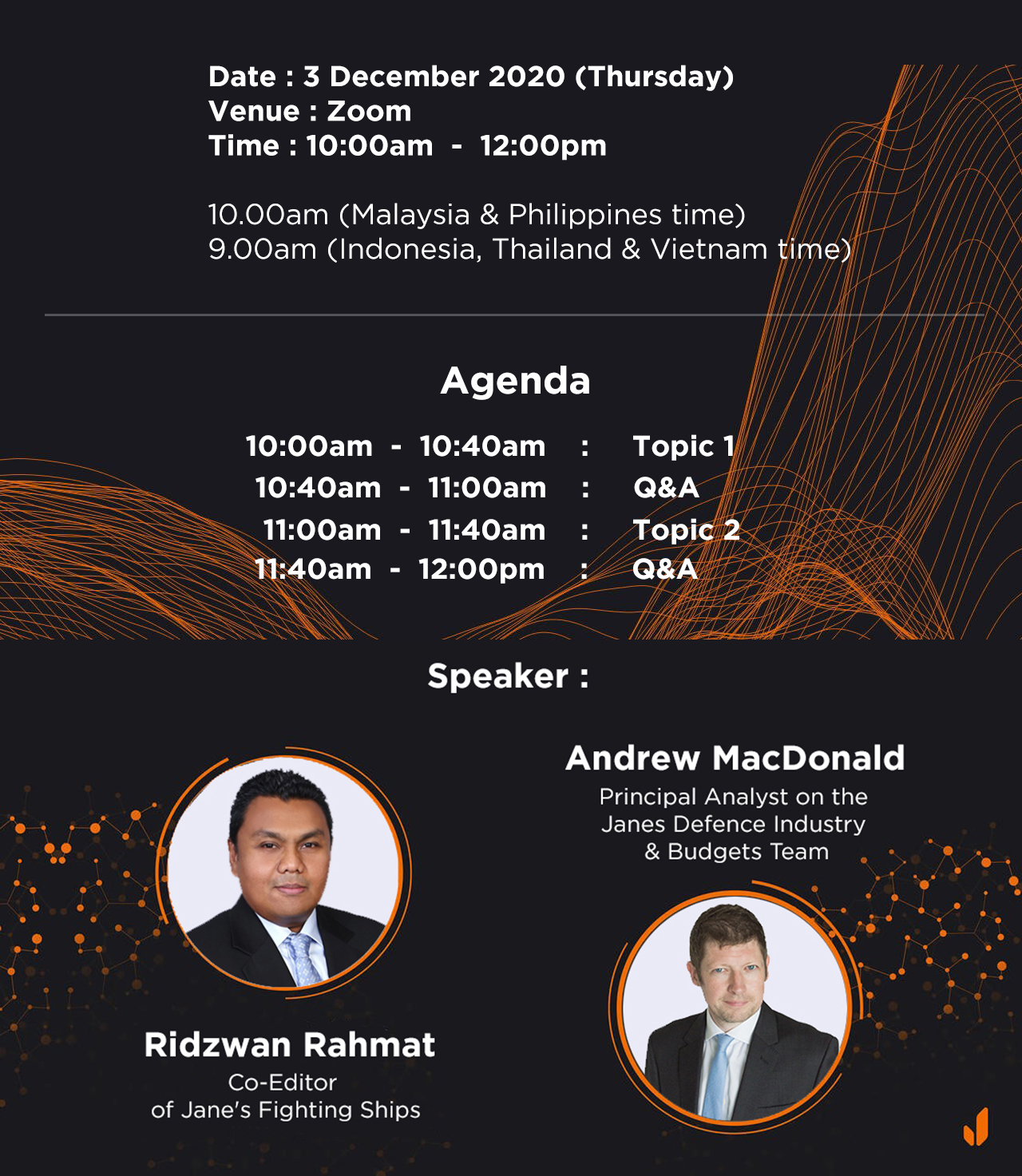 Ridzwan Rahmat
Principal Analyst, Jane's Fighting Ships and Jane's Navy International, Jane's by IHS Markit. Ridzwan Rahmat is a co-editor of Jane's Fighting Ships, and a principal defence analyst and journalist for Jane's Navy International.He reports on the latest military-related developments in the Asia-Pacific region. He also keeps an eye on piracy and maritime terrorism issues in Southeast Asia and provides briefings for IHS Markit clients on naval- and maritime-related matters.
Andrew MacDonald
Andrew MacDonald is a principal analyst on the Janes defence industry and budgets team, with responsibility for Janes Defence Budgets forecasts in Asia Pacific, Central Asia and Russia. His work on recording, analysing and forecasting countries' military expenditure helps guide the strategies of major defence contractors across the world.Andrew is also lead analyst for market intelligence products covering the North American defence industry, including Janes Market Reports and World Defence Industry. Andrew holds a BA (Hons) in Politics and Modern History from the University of Manchester and an MA in Geopolitics and Grand Strategy from the University of Sussex.