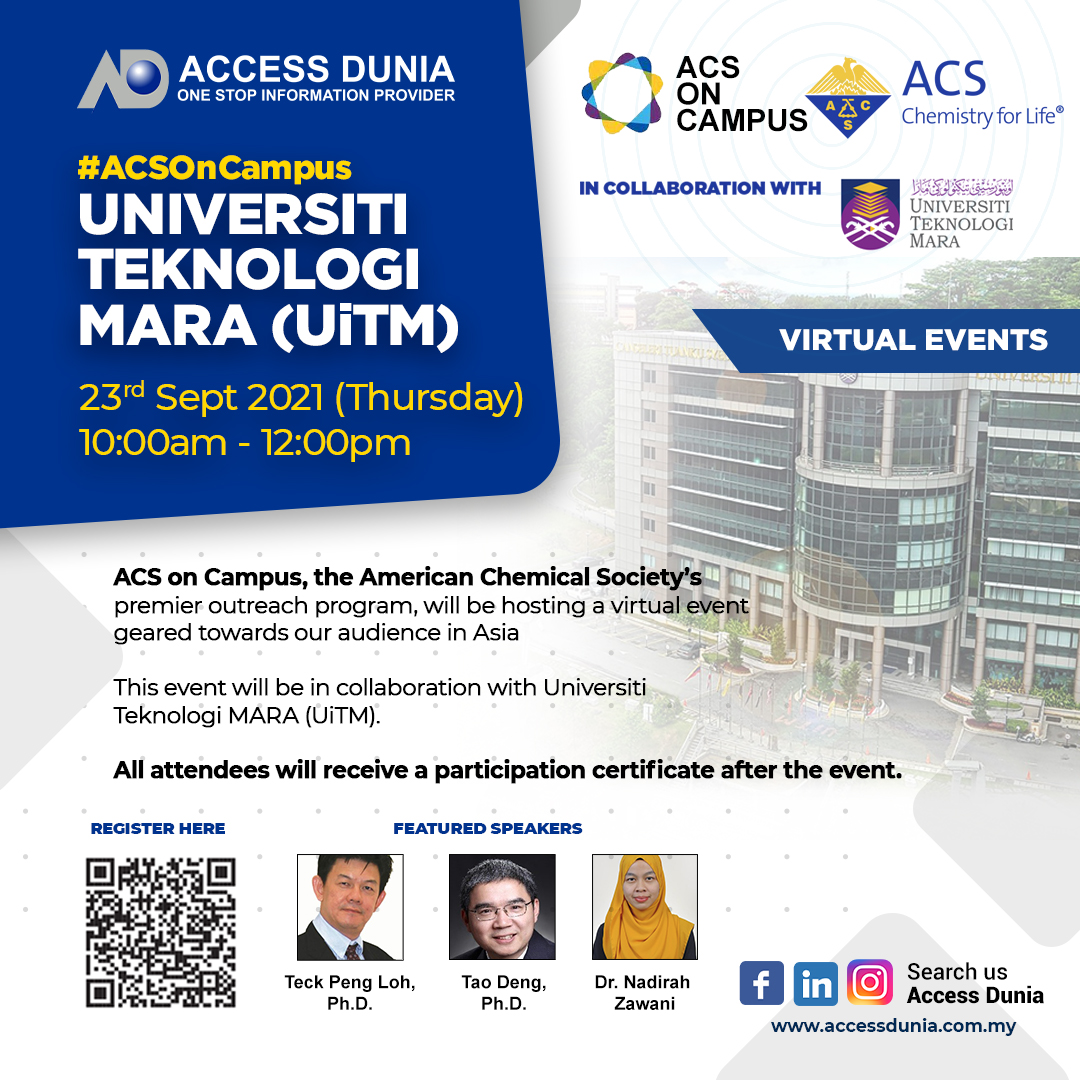 About
ACS on Campus, the American Chemical Society's premier outreach program, will be hosting a virtual event geared towards our audience in Asia at 10:00 am-12:00pm GMT +8 , September 23. This event will be in collaboration with Universiti Teknologi MARA (UiTM).
At this 2-hour virtual event, you'll hear from ACS Editors, CAS specialists on their tips for publishing, peer review, and how SciFinder can help you in your research process!
All participants will receive an e-certificate of participation.
What You Will Learn:
The art of graphical abstracts and why they matter
Professor's most frequently asked questions (and answers!)
What ACS Resources you can use to grow your career
Hear from local ACS Malaysia Chapter
TIME
EVENT
10:00-10:05
Opening Remarks and ACS Resources to Grow Your Future
Mandy Sum, Market & Business Development Manager, ACS Publications

10:05-10:40
Top 10 Tips Scholarly Publishing
Prof. Tao Deng Associate Editor, Chemical Reviews
10:40-11:15
Peer Review
Prof. Teck Peng Loh Associate Editor, Journal of Organic Chemistry
11:15-11:45
CAS SciFindern At My Own Convenience – How CAS SciFindern contributes to the research & publishing process
Dr. Nadirah Zawani R&D Engineer, AMBU Sdn. Bhd.
11:45-11:55
Library Resource by Uitm Library
11:55-12:00
Closing Remarks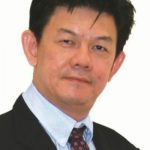 Teck Peng Loh, Ph.D.
Associate Editor, Journal of Organic Chemistry
Nanyang Technological University, Singapore
Teck Peng Loh is a distinguished university professor of chemistry at Nanyang Technological University, Singapore. Under the tutelage of Professor E.J. Corey, he obtained his Ph.D. (1994) from Harvard University. He has published 422 international refereed papers in reputable chemistry journals bearing high impact factor and 10 patents. He has been invited to give more than 100 lectures in many institutions in the world and plenary and keynote talks in conferences such as the ICOS, OMCOS, Asian European Symposium, etc. He has also served as chairman of many of these conferences. He has been awarded outstanding researcher awards from both National University of Singapore and Nanyang Technological University. In 2017 he received the Yoshida Prize (Japan) and the prestigious President's Science Award (individual) Singapore. He has been elected Fellow, Academia of Sciences, Singapore (2018) and Fellow of Academia of Sciences, Malaysia since 2010. His research work mainly focuses on the development of new synthetic methodology, green chemistry, and synthesis of natural and unnatural products.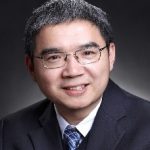 Tao Deng, Ph.D.
Associate Editor, Chemical Reviews
Zhi Yuan Chair Professor, Shanghai Jiao Tong University
Tao Deng is the "Zhi Yuan" Chair Professor at Shanghai Jiao Tong University, Shanghai, China. He currently serves as the Associate Editor for Chemical Reviews. He obtained his B.S. in 1996 from University of Science and Technology of China and Ph.D in 2001 from Harvard University, both in Materials Chemistry. His current research focuses on energy materials and systems inspired by biological systems, especially thermal energy related materials and systems, including materials and systems for thermal energy generation, conversion, storage, and detection. He served as the Conference Co-Chair for the MRS Fall Meeting at Boston, Massachusetts (2017) and as the Conference Executive Chair for the 2014 IUMRS International Conference of Young Researchers on Advanced Materials. He is currently the board member of Chinese MRS, and also the Chair of the Commission on Development of the International Union of Materials Research Societies (IUMRS).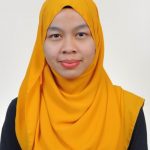 Dr. Nadirah Zawani
R&D Engineer, AMBU Sdn. Bhd.
Dr. Nadirah Zawani was appointed as CAS Young Scientist in 2019 while doing her doctorate. With her resilient and tenacious attitude, she challenged herself to explore different areas throughout her education journey. She obtained her Master of Science (Chemistry) in Catalytic and Materials Science from Universiti Teknologi Malaysia. After that, she embarked on her double Ph.D. studies in Natural Product and Organic Synthesis, intending to find anti-viral "hit-to-lead" compounds. She successfully acquired her Ph.D. from Universiti Sains Malaysia and the University of Lorraine, France 2020. The exposures to multidisciplinary research allowed her to interact with people of different fields and expertise. During her Ph.D. studies, she worked as a sessional part-time lecturer at a private university. She taught Cambridge AS & A Level Chemistry at KDU Penang University College and Chemistry for Health Science and Medicinal Chemistry at RCSI & UCD Malaysia Campus, Penang. Now, she is stepping out of her comfort zone to polish her research and development skills in the medical devices industry as an R&D Engineer at AMBU Sdn. Bhd. She hopes that this could encourage future collaboration in research and development between industries and academicians in Malaysia.