Materials Science & Engineering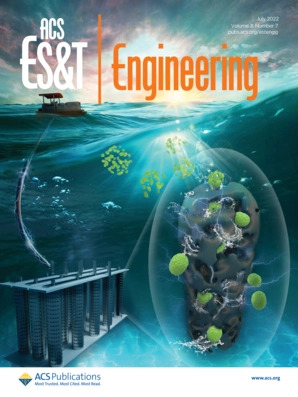 ACS ES&T Engineering
Journal Scope
ACS ES&T Engineering publishes high-impact research and review/perspective articles in all areas of environmental technology and engineering through a highly rigorous peer-review process. It is a specialist journal that aims to serve as an international forum for research and innovation, welcoming contributions on materials, technologies, processes, data analytics and engineering systems that can manage, protect and remediate air, water and soil quality, treat wastes and recover resources. Research contributions that support effective decision-making within complex engineered systems, and are informed by mechanistic science and analytics that describe complex environmental engineering systems are encouraged. Papers that present novel, innovative advancements will be considered across the continuum from lab-based discovery to field-based application. Case/demonstration studies without significant scientific advances and technological innovations will not be considered. Papers containing experimental and/or theoretical methods and knowledge grounded in engineering principles that are integrated with core knowledge from other disciplines are welcome. Specific topics may include (but are not limited to) the following environmental engineering areas:
Novel materials, technologies, processes, data analytical methods, and systems that:
– evaluate, protect and remediate air, water, and soil quality
– solve or address multiple emerging environmental issues at various nexuses (e.g., energy, material, sustainability, public health)
Novel separation, desalination, and resource recovery technologies
Environmental nanotechnology and biotechnology
Environmental catalysis for pollution abatement and cleaner sustainable processes
Redox processes for engineering applications
Waste management, treatment, valorization, and waste-to-energy
Environmental technologies developed for monitoring, sensing, and assessing environmental exposure & hazards
Macroscopic and microscopic mechanisms that inform environmental engineering systems
Novel analytical and simulation methods (e.g., data-driven science, artificial intelligence, machine learning, data scraping) for environmental engineering applications
The Journal does NOT cover the following areas if they are presented as solitary topics and without making their connection to engineered systems or technological innovation clear:
Environmental policy and regulation as a solitary focus (i.e., papers about the impact of engineered systems on the environment and health, and policy/regulation implications are considered within scope as long as outcomes link to advancements around the engineered system as a central theme of the paper)
Characterization and monitoring of the environment as a solitary focus
Fate and transport of contaminants and biogeochemical cycling
Ecotoxicology and environmental health
Atmospheric chemistry and processes, climate change
Environmental chemistry as a primary focus (e.g., fundamental reaction mechanisms). However, environmental chemistry works that are necessary to demonstrate or understand engineering technologies or engineered systems may be suitable.
Manuscript Types
Research Article (flexible length typically up to 8,000 and a maximum of 10,000 word-equivalents; shorter articles as short as 3,000 word-equivalents also accepted). Research Articles report innovative advances grounded in environmental engineering research that contribute new insights and knowledge applicable to the environmental challenges and opportunities we face today and tomorrow. Article length is flexible and should be determined depending on the nature of the work. Shorter length articles may report innovative environmental engineering works in the proof-of-concept stage where full detailed studies are not yet available. Justification for submission and publication of initial results should be described in the author's cover letter.
Research articles consist of the following sections: Abstract; Introduction; Experimental/Methods; Results and Discussion; Conclusions; References. The Journal allows some flexibility in formatting and authors may add other sections or use alternative section titles (e.g. Environmental Implications, Engineering Significance instead of Conclusions) or may place the experimental/method section after the conclusion section. The experimental/method section should include only pertinent information involved in the work and details not essential for understanding the paper should be placed in supporting information (SI). Research articles are reviewed initially by editors and then, if appropriate, sent for full peer review. The Editor-in-Chief and associate editors, listed in the ACS ES&T Engineering masthead, make final decisions about all research material published in ACS ES&T Engineering.
Review (length limit: up to a maximum of 15,000 word-equivalents). Reviews describe and discuss thoroughly documented developments and issues in environmental engineering research. Reviews should summarize prior research and should also provide insights into the reviewed themes through analysis and organization of the published literature. Review articles are primarily invited by the editors. Unsolicited review articles may be submitted with permission from the editors and proposals for unsolicited review articles should be sent to the journal's editorial office ([email protected]) and include: (1) a brief outline (length limit: 2 pages), with section headings and a short discussion of the proposed content in each section; (2) a list of existing key review articles on the subject published in the past 10 years, with a justification statement describing the contribution of this new review article to the field; (3) a summary of the authors' academic background and research areas with Google Scholar, Web of Science, or Scopus profile; and (4) a list of the authors' publications related to the review topic. If the proposal is approved by the editors, the authors will be invited to submit a full review. All submitted review articles will undergo full peer review.
Perspective (length limit: typically 5,000 and up to 7,000 word-equivalents). These contributions are reviews of a field or area and are focused rather than comprehensive. Perspective papers will assess the current status of a chosen field with an emphasis toward identifying key progress being made and identifying future research that is needed to advance the field. Perspectives are invited only, and unsolicited perspectives are not considered. Perspective articles will undergo full peer review.