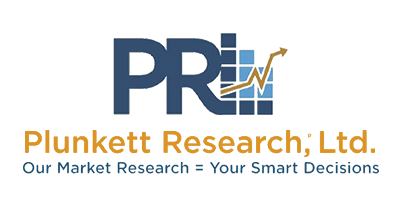 Market Research: Business, Industry and Consumers
Data, Forecasts, Market Size, Technologies, Statistics and Trends Analysis
Plunkett Research, Ltd. is the leading provider of industry sector analysis and research, industry trends and industry statistics.
Our research reports and online subscription service are used by the world's top corporations, consultants, universities, libraries and government agencies. Plunkett Research, Ltd. was established in 1985.
Plunkett's products save time and effort when you need competitive intelligence, market research, vertical industry marketing data, or industry trends analysis. We cover such vital industry sectors as health care, financial services, retailing, entertainment, energy and information technology.
A Representative List of Organizations that Have Used our Research and Products:

Our Market Research Advantages
Cost Effective
Working through both our in-house U.S.-based staff and our partners' teams in India and other nations, we are able to offer fast turnaround on a cost-effective basis.
Proprietary Databases
We own and continually update the Plunkett Research Online industry databases.
Deep Experience
We have been conducting industry, company and technology research since 1985.
Client-Friendly Approach
We have the ability to provide you with a U.S.-based, well experienced team that is focused on listening, responding and reporting.