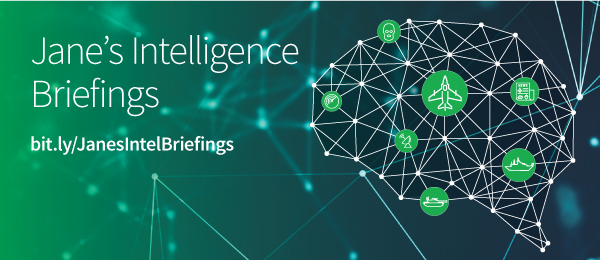 Global Terrorism Trends 2019
Thursday 28 November
Jane's Terrorism and Insurgency Centre (JTIC) recorded notable trends and developments in operational activity by non-state armed groups worldwide in 2019. Members of the JTIC team will provide analysis and assessment of the following topics:
Key top-level trends in worldwide activity by non-state armed groups
Right-wing extremist groups and activity in both the UK and US
The current operational strength of the Islamic State and future scenario analysis
The indiscriminate operational methods of eco-nihilist group ITS
Climate change and future security threats
Thursday 21 November
Climate change is not a singular threat. It is a driver of multiple other threats that will affect countries and populations around the world over the next 20 to 30 years, with a wide range of implications for militaries, for which planning needs to begin now. In this intelligence briefing, we will describe:
Climate change and the world in 2050
Future security threats driven by climate change
The impact on defence and military planners
China's Stategic SAM Network – systems and capabilities
Thursday 18 October
China's ground-based strategic air defence network has continued to evolve over the past decade. Despite the import of advanced Russian SAM systems, the development of indigenous systems for domestic use and the export market continues.
Principal satellite imagery analyst Sean O'Connor will cover:
Capabilities of current air defence systems
Network capabilities, including system deployments
Future systems and capabilities
The UK's departure from the European Union – implications for the UK defence market and defence industrial base
Thursday 10 October
With the UK's expected departure from the European Union (EU) on 31 October, Jane's experts will cover:
The prognosis for UK defence exports to the EU and the wider world
The outlook for UK-EU defence co-operation
The impact on cross-border supply chains
The defence spending outlook into the 2020s